HEERF Fund Distribution
Distribution of HEERF Funding
Data is based on expenses as of May 31, 2022.
The university has been identified as a beneficiary of additional funding from the Higher Education Emergency Relief Fund, or HEERF, as authorized by the Coronavirus Aid, Relief, & Economic Security (CARES) Act, the Coronavirus Response & Relief Supplemental Appropriations Act of 2021, and the American Rescue Plan Act of 2021.
For additional information, please email budget@csulb.edu.
HEERF Funding
Image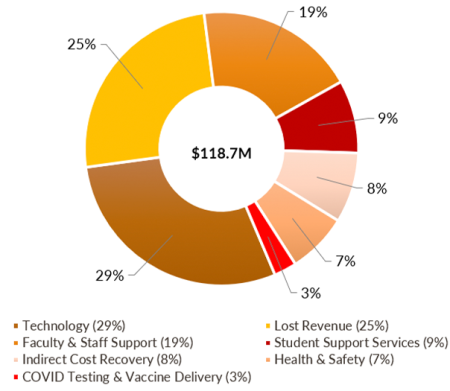 Institutional HEERF allocation decisions were based on guidance provided by the U.S. Department of Education to defray expenses related to coronavirus including technology costs related to the transition to distance education (29%), lost revenue (25%), faculty and staff training (19%), student support services (9%), indirect cost recovery (8%), health and safety protocols (7%), and COVID testing/vaccine delivery (3%). As each new HEERF grant was received, divisions prepared funding proposals that would help them provide the necessary supplies, services, and changes to instructional delivery to meet student, faculty and staff needs. Decisions were made based on funds available, and requirements of the grants.
Technology
Image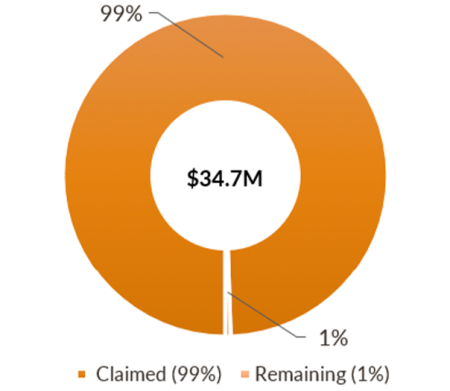 $34.7M has been allocated for technology expenditures to upgrade classrooms and labs for online teaching and learning, provide laptops and hotspots for students, transition faculty and staff to a remote/hybrid work environment, increase connectivity through the use of hotspots and outdoor Wi-Fi projects as well as a host of additional security and accessibility upgrades for students, faculty and staff. To date, approximately 99% ($34.5M) of the allocated funds have been claimed with 1% ($179K) remaining.
Faculty & Staff Support
Image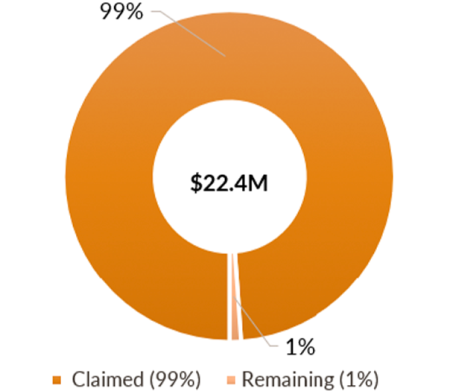 $22.4M has been allocated for faculty and staff support including support for online/hybrid course delivery and program development, faculty workshops facilitated by the faculty center, staff workshops focused on technology tools and data informed decision making, and other programs needed to support faculty and staff. To date, approximately 99% ($22.2M) of the allocated funds have been claimed with 1% ($244K) remaining.
Student Support Services
Image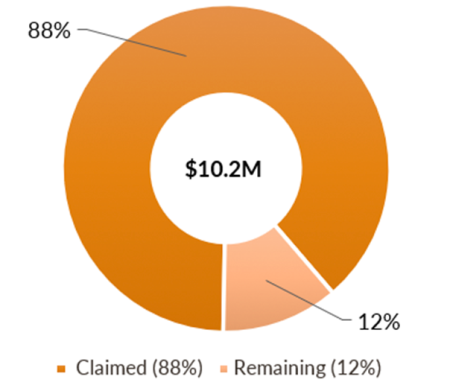 $10.2M has been allocated for student support services beyond technology and direct instructional changes. This includes programs in both Academic Affairs and Student Affairs such as increasing support for students' basic needs, increased online advising and support for online learning, additional health services for residential housing students, additional support for students with disabilities to facilitate alternative modes of instruction, counselors to support students' mental health needs, outdoor classroom space complete with wireless access, speakers, and seating as well as various other programs designed to meet the needs of all students. To date, approximately 88% ($9.0M) of the allocated funds have been claimed with 12% ($1.2M) remaining.
Health & Safety
Image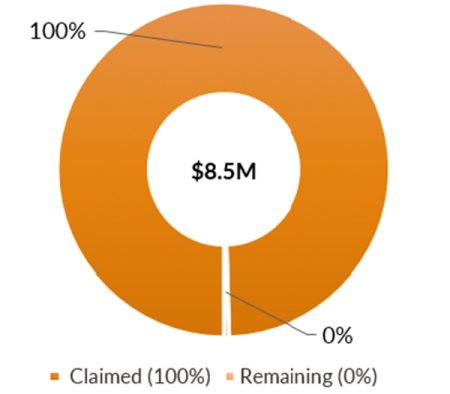 $8.5M has been allocated for health and safety measures to ensure COVID protocols are met; in addition to more rigorous cleaning standards, the campus purchased and installed HVAC and filtration upgrades, plexiglass and other personal protective equipment to safeguard students, faculty and staff in campus buildings. To date, 100% ($8.5M) of the allocated funds have been claimed with 0% remaining.
COVID Testing & Vaccine Delivery
Image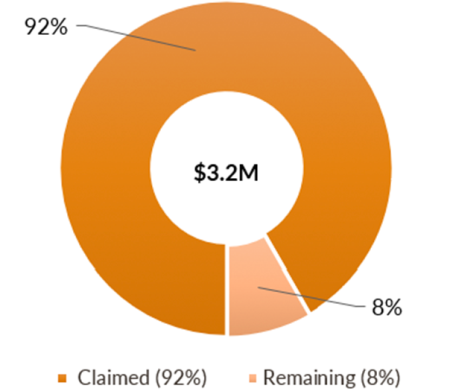 $3.2M has been allocated for COVID testing and vaccine delivery with the establishment of the on-campus vaccine clinic in 2021 and ongoing testing and vaccine efforts managed by Student Health Services. To date, approximately 92% ($2.9M) of the allocated funds have been claimed with 8% ($263K) remaining.
Indirect Cost Recovery
Image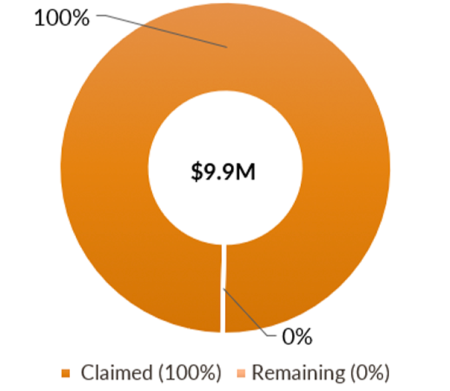 $9.9M has been allocated for indirect cost recovery for overhead costs incurred by the University during the pandemic, these funds help support the operational needs of the campus. The indirect cost rate for federal grants was used to determine this amount relative to expenditure claims on the grant. To date, approximately 100% ($9.9M) of the allocated funds have been claimed with 0% remaining.
Lost Revenue
Image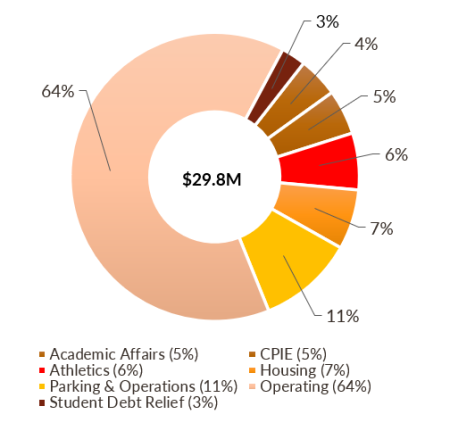 $29.8M was claimed to replace revenue lost due to the economic downturn and state general fund reduction as well as closure of many campus buildings, events and services and the reduction in students, faculty and staff on campus in the 2020-21 academic and fiscal year. The 64% represented in the operating fund reflects the state budget reduction of $19M.