Fall 2022: CSULB adds several resources across campus
Published August 15, 2022
By
Angela Ratzlaff
Campus Update
It's a new academic year, and Cal State Long Beach has added several resources that students, staff and faculty can take advantage of this fall.
In addition to the returning Technology Loan Program and expanded outdoor Wi-Fi, campus now offers a new Elbee Chatbot.
And The Beach's approach to mental health wellness is seeing significant change, with a new initiative to overhaul how campus approaches response and treatment.  
Here's a look at the new resources for the 2022-23 academic year:  
On-Campus Technology
Technology Loan Program
Eligible first-year students in need of a laptop or tablet device can sign up for CSULB's Technology Loan Program or California State University Connectivity Contributing to Equity and Student Success (CSUCCESS).  
The Technology Loan Program launched in 2020 when the need for access to the internet and laptops became critical when the COVID-19 pandemic prompted a temporary transition to primarily virtual instruction.
On-Campus Wi-Fi
CSULB's Division of Information Technology is continuing its work in expanding outdoor Wi-Fi on campus. In 2021, Wi-Fi became available on the University Student Union south and west patios, Nugget Patio, Maxson Plaza (seating area only), and the first floor of the Palo Verde South Parking Structure. Other areas of Wi-Fi coverage will soon be available. Outdoor Wi-Fi areas can be located on CSULB's smart map.  
Students, staff and faculty should connect to Eduroam, a secure Wi-Fi access service developed for the international research and education community.
Computer Labs
Students have access to several computer labs on campus, including Horn Center, Spidell Center in University Library, University Express Lab in Shakarian Student Success Center and Accessible Instructional Materials Center, a technology and accessibility resource lab in the Academic Services building that provides support and services for students with disabilities.
Students can also connect to the Student Virtual Lab if they want to work from home and access software programs that they may not want to download on a personal computer due to cost or memory load.
Canvas at The Beach
The migration from BeachBoard to Canvas has begun. Information can be found on the Canvas @theBeach website, which has an FAQ, training resources for faculty and a migration timeline.
Elbee Chatbot
Have you noticed the Elbee Chatbot? It's a new feature that CSULB website visitors can use to ask questions. Elbee Chatbot is currently live on Technology Help Desk, Enrollment Services and Student Health Services and will be expanded to other pages on the website soon.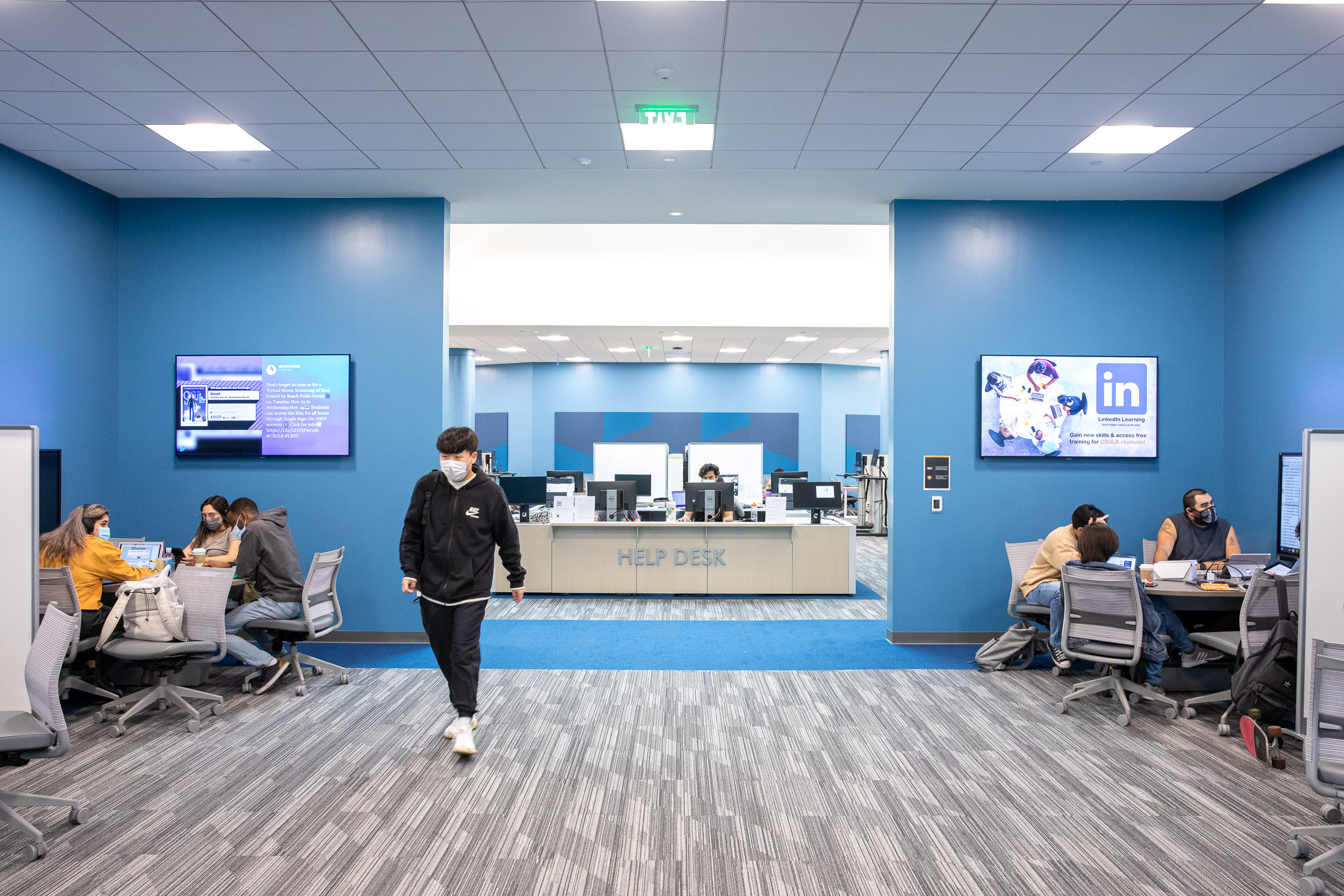 Health Resources
Student Health Services
Students can take advantage of the on-campus clinic Student Health Services (SHS), which offers care for illness, injuries, reproductive health and behavioral health. SHS also has an on-site pharmacy where students, faculty and staff can purchase over-the-counter (OTC) items at reduced prices. Prescription services are available for students only. 
COVID-19
The latest guidance can be found on CSULB's COVID-19 website. The university requires third shots, or booster shots, as part of its immunization policy. SHS will continue to administer vaccines on campus.
For fully vaccinated individuals in most campus settings, face coverings are optional. Masks will continue to be required, regardless of vaccination status, in classrooms and labs, the Student Health Services clinic, childcare centers, public transit, small offices and conference rooms. 
Those who are not fully vaccinated must take part in an ongoing COVID-19 testing program.  
Mental Health
Mental health wellness is an important factor in a successful education, and two years of learning and working during the pandemic has increased stress levels. In 2021, an estimated 86% of CSULB students reported having moderate or high stress in the last year, and nearly a third reported the death of a family member or loved one due to COVID-19.  
That's why Student Affairs launched an initiative that aims to overhaul how campus approaches mental health.  
A full list of resources can be found on the Beach Wellness website. Faculty also have access to mental health resources on and off campus.  
Student Recreation and Wellness Center
In addition to providing a space where students, staff, faculty, alumni and affiliates can exercise, the Associated Students, Inc. Student Recreation and Wellness Center also offers nutrition programs and well-being sessions.
Basic Needs
CSULB's Basic Needs offers resources for students who are facing food or housing insecurity. The Student Emergency Intervention and Wellness Program works to serve displaced students.
In addition, ASI also provides an on-campus Beach Pantry that is available to any student who needs it. A newly added Beach Kitchen is a resource where students can learn how to cook healthy meals from food available in Beach Pantry.
Beach CalFresh Outreach also offers a resource for students facing food insecurity. The team helps students sign up for CalFresh, a nutrition assistance program that helps low-income individuals and families buy the food they need.
Where to Shop and Eat
Anything from quick-grab snacks, hot meals and school supplies are all available on campus. The Where to Shop and Eat website lists out all eateries and stores that are accessible to students, staff, faculty and visitors.  
Parking and Transportation
If parking on campus, a form of paid parking is required. Parking permits can be purchased on CSULB Online Parking Services portal.
New this year is a ParkMobile App, where guests and visitors can purchase a daily or short-term permit on their phone.  
Students, staff and faculty can also check sustainable transportation options, including Long Beach Transit, E-scooters and bikes. 
Off-Campus Housing Marketplace
It can be a challenge finding student-friendly places near CSULB. Whether you're a first-year student transitioning out of the dorms, a faculty member looking for short-term residency or an International student looking for a place near campus, the CSULB Off-Campus Housing resource can help you with that search.
Related Articles
This is a carousel with auto-rotating slides. Activate any of the buttons to disable rotation. Use Next and Previous buttons to navigate, or jump to a slide with the slide dots.