Playlists, Analytics and Imports - BeachBoard Media
You can create playlists, access analytics for specific media, or import media from other courses in Course Gallery by selecting 
Image

at the top right of the
My Media
page and then selecting the desired option.
Image
From the 
Image

icon mentioned above, select
Edit.
Select the
Playlists
tab.
Image

Select Create New on the right of the page and then select Manual Playlist.
Image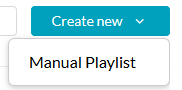 A window will pop-up where you can enter a Title, Description, and Tags for the playlist. Select Add Media to choose which published content you would like to add to the playlist. Simply select Add next to any media to add it to the playlist.
Image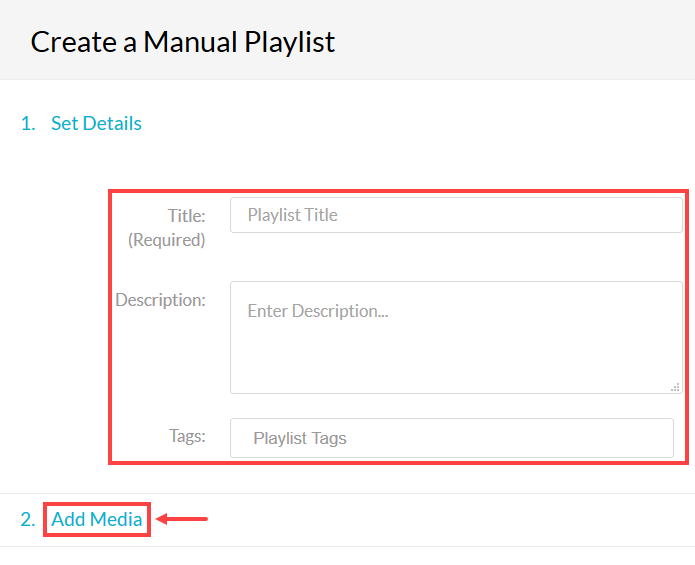 Creating playlists is another method to organize your videos for your students. For example, you can create a playlist for a set of videos that a student much watch for any given week. Please note that all of your playlists will be displayed in the Course Gallery under the Home tab. 
Image

When you enter the Playlist tab, you will find a list of all your existing playlists. To the far right of each entry, you will find both the edit (pencil) and delete (trash) icons. Select either one to perform the desired action.
Image
The Analytics tool gives you a snapshot shot of how users are engaging with the Course Gallery as well as providing some user-specific statistics.
Selecting this option will bring up a window displaying all other course's you are enrolled in that currently have videos in their Course Gallery. Select the course you wish to import videos from and select Import. Please note that this will import all videos from that course's Course Gallery. 
IMPORTANT NOTE: Using the Import/Export/Copy Components tool will not copy over your videos from the Course Gallery. Any pages in your course that have embedded videos from your Course Gallery or Media Library will not work after performing a course copy. You will need to re-embed videos as needed throughout your course. If you have a lot of video content in your course, we recommend you create playlists in your Course Gallery organized by week/module/unit and point your students to via media directly through the Course Gallery. Please see the Creating Playlists section for more information.