Parscore
ParScore Scoring and Gradebook Workstation
ParScore provides an integrated system for scoring tests, building a gradebook, and printing statistical reports using a SCANTRON optical reader.  For example, instructors run their students' test sheets through the Scantron machine which will gather the test data into statistical reporting formats. The system is supportive of instructor exam analysis and student exam record keeping. ParScore is housed in the Academic Technology Center, Academic Services Bldg, room 120. 
Users must have an account established on the ParScore workstation. To request a ParScore account or technical support, contact Stafford Cox, (562) 985-7801 or itss@csulb.edu. The workstations are located in the Academic Technology Center, Academic Services Bldg., Room 120. A copy of the ParScore User's Manual is available upon request.
Export Scored and Import to BeachBoard (with screenshots)
Export Scores from Parscore Workstation into a Microsoft Excel file.
Grade the worksheets with Parscore workstation.
Go to Options > Export Wizard.
In the File Type box select Microsoft Excel 5.0.
Select the Student ID and other desired fields and the desired score column.
Click Export.
Save as desired.
Import Parscore Scores to BeachBoard
Scantron test results can be imported into a BeachBoard gradebook. There are four steps to this process:
Export and download the BeachBoard gradebook taking only the required columns.
Open the Scantron results file.
Add/replace the column headings in the Scantron file with those from the BeachBoard gradebook file, and
Import the Scantron file (still in a CSV format) into the BeachBoard course.
Opening the Scantron files in Excel: Save the Scantron attachment to an appropriate file location, if this was not already done. Open the Scantron file in Excel (CSV files usually open automatically in Excel).
In BeachBoard:
Go to Grades > Enter Grades view.
Click Export Grades.
Select Key Field: Username; and Grade Values: Points Grade
Under Choose Grades to Export select only the column you wish to add scores to (Note: this column should be prepared already with the appropriate maximum point value).
Click Export to CSV.
Click the file link in the popup and Open (or Save and then open).
In Microsoft Excel:
Open the BeachBoard Exported Excel file and select cell B1 and copy it.
Open the modified Scantron Excel file, select cell B1 and paste the column headers from the BeachBoard Export.
Click Save As.
Next to Save As Type choose CSV (comma delimited).
Save the file in a location on your computer.
In BeachBoard:
Grades > Enter Grades > Click Import Grades.
Click Browse.
Select the CSV file containing the Scantron data that was just saved and click open.
In BeachBoard, click Next (and Next again if any errors are detected).
Click Import.
Errors: Any errors in this process appear in the first screen of Import process. These errors usually are the result of missing student UserNames. Those grades must be entered individually.  (D2L information courtesy of Univ of Wisconsin, Green Bay).
For assistance with BeachBoard, contact itss@csulb.edu.
Along with uploading your exam grades straight to BeachBoard, you can print (or print to PDF, which is highly recommended) statistical reports about your exam(s).
Popular ParScore Reports:
Class Response Report: prints a list of the students' test responses for each version of the test.
Item Analysis Report (Standard, Detailed): this is a statistical report that provides a detailed distractor analysis based on raw scores. Each test version is generated separately.
Roster Report: this report contains the details displayed on the Roster tab.
Score Distribution Report: This report provides an analysis of how student scores are distributed for the total or a specific test. A Percentile or Histogram view is available.
Student Test Report (Detailed, Standard, Basic):   this report provides each student with details on a specific test. The Answer Key is not included by default. Note: As the default prints one student report per page, please provide your own paper for printing, or bring a USB and Print to PDF.
ParScore Reports that might be useful:
Answer Key Report: prints the answer key for the selected Category. This is sometimes printed when partial credit has been assigned.
Grading Criteria Report and Chart: this report prints the data displayed on the criteria tab of the graph format from MSGraph 8.0.
Course List Report: prints a list of the courses from the Course List Screen – includes the File Reference Number used by ParSCORE.
Error Log Report: this report tracks the rejected forms that occurred during scanning.
ParScore Reports that are available if needed:
Consolidated Item Analysis Report (Standard, Detailed):  this is a statistical report that provides a detailed distractor analysis based on raw scores. Prints a consolidated Item Analysis combining all versions into one report.
Progress Report and Assignment Sheet: this report is generated per student and indicates their progress based on the Assignment Sheet you create.
Student Enrollment Report (Standard, Detailed): this report provides a list of the enrolled students.
Student Profile Report: this report provides the three optional columns from the student tab in the categories you select, with or without the student name. *indicates most commonly used Reports.
ParScore Scantron Forms Guide
ParScore requires specific Scantron forms. The most popular are listed below.  To view the individual forms, click on the form number.
| Form Title | No. of Items | No. of Choices | Form Number |
| --- | --- | --- | --- |
| Student Enrollment Sheet (Red) | 150 | 5 | F-288-PAR-L |
| Test Sheet (Red) | 200 | 5 | F-289-PAR-L |
| Student Enrollment Sheet with Mini-Blue Book (Purple) | 200 | 5 | F-1712-PAR-L |
| Test Sheet 8000 (Green) | 100 | 5 | X-101864-PAR-L |
ParScore Scantron Form Examples
Image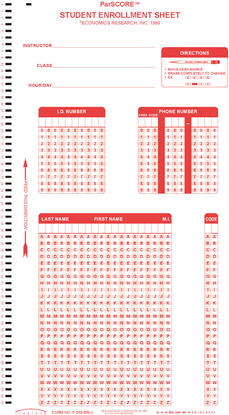 Image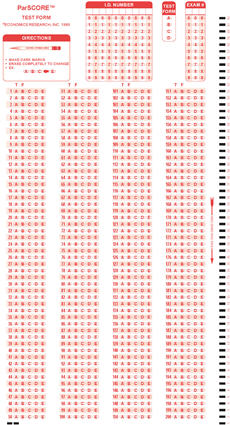 Image

Image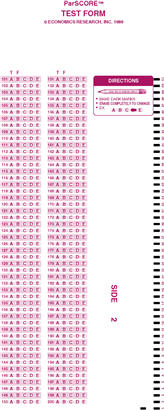 Image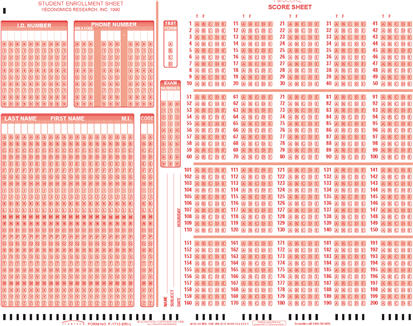 Image

Image