Creating Dropbox Folders and Categories
You can set up Dropbox folders for each of your assignments and set start dates, end dates, and release conditions; set up special access; and associate folders with competency activities.
Go to Dropbox on the Navigation Bar and select New Folder. 
Enter a  Name for the folder. 

Image

Associate the folder with a Grade Item if you want submitted assignments to be tied to an item in your grade book. If connected, score and feedback entered in the Dropbox Evaluation area will automatically be sent to Grades. 

Select "Ungraded" under the "Grade Out of Column" and give it a total amount of points available for this assignment.  
Select "In Gradebook" and select one of the following options:

Edit or Link to Existing: Create a new Grade Item in your Gradebook with the same title and available points.

Choose Between:

Create and link to a new grade item (create a brand new one) .
Link to an existing grade item (you've already made the grade item in Grades previously) :

Not in Gradebook: Exclude this assignment from the Gradebook .
Reset to Ungraded: Remove ability to grade within Grades and remove the available amount of points for this assignment.

Set a Due Date for the Dropbox folder. Note: Students can still submit late with only a due-date. It will be flagged as "late-submission". To close the Dropbox after the due date, set an End Date (see step 13) 
Enter information about the assignment, submission, etc. in the Instructions text box. Add attachments if needed.
Attach any files that you want to make available to students from the Dropbox folder by clicking the Add a File button (for example, a sample assignment). Click Upload and select a file from your computer. Click Upload again if you wish to add more files. Finally, click Add to attach your file(s). 
If you want to Attach this assignment to an existing Activity (like a Content Module) click this icon to expand the menu and pick and choose what to link it to. 
Click the Attach Weblink icon if you wish to add a URL-website to this assignment. 
To record up to a minute of audio, click Record Audio. This will open a pop-up window where you can record your audio. Click Allow in the Adobe Flash Player Settings to allow BeachBoard to use your microphone (whether external or internal) to record sound:

When ready, click the Record button and record your audio clip. Press the same button (now Pause) to pause/stop recording. Press the Play button to listen to your audio clip. You can clear your previous recording by clicking Clear. When finished, click Add in the lower right corner to attach your audio clip.

Image

 

Image

Enter a "Start Date" for when you want the Dropbox to become available for students to submit their assignments. Note: The Dropbox is invisible for students before the Start Date. 
Enter an "End Date" for when you no longer want students to be able to submit. Note: the Dropbox closes and disappears from the students view from Beachboard after the End-Date has passed. Students can no longer submit late after the End Date has passed.  
Release Conditions allow you to restrict who can access course materials, complete activities, or view a grade item based upon customized criteria. You can set these up here.  

Set up Special Access if you have any students who need extra time, a different date, or multiple attempts. Click "Manage Special Access" to add a student. Select one of the following :

Allow users with special access to submit outside the normal availability dates for this folder – this allows everyone access to the Dropbox folder, but sets up Special restrictions for the selected student.  

Allow only users with special access to see this folder – this allows ONLY the special access student access to the folder. All the other students will NOT see this folder on their Beachboard pages.

 

Image

Choose an Assignment Type.  

Individual submission folder - Select this option if you want each student to submit their own assignment.  

Group submission folder - Select this option if you want one assignment submitted per group. Groups must be created first through the Groups tool (under Edit Course > Learner Management > Groups). Group Dropbox areas are marked on the Folder List page with the Group Submissions icon. Any group member can submit and view files for a group dropbox.

Choose a Submission Type: Select one of the following

File submission: Submit a document to the Dropbox(.PDF, .DOC, .DOCX, .EXCEL, .CSV etc.) .

Text submission: Submit only text (for example, submit a URL link) .

On paper submission: The student has given you the paper printed on a piece of paper .

Observed in person: The assignment was/will be completed during class time and you wish to mark it complete. 

Choose "Files Allowed per submission:"

Unlimited: Student can submit more than once. This might be beneficial in case a student submits a wrong file, or wish to make any last-minute edits.

One File: Student can only submit paper once.

Choose "Allowable File Extensions" if you wish to choose a specific allowed file for this Assignment. For example, choose only "Image & Video" to have students submit a video presentation. 
Under "Submissions", select which one of the files will be kept if students are allowed to submit more than once.
Notification Email allows you to be notified when your student submits to this assignment.

Image

Add a Rubric by clicking the Add Rubric button or create a rubric by clicking the Create New link. Rubrics must be created in BeachBoard to be attached to a Dropbox folder. Select the Default Scoring Rubric using the drop-down menu (optional). See Rubrics for more information. 
By checking the box under Annotation Tools, you will have the option to annotate on the students' paper when you are grading their assignments.
By checking the box under Anonymous Marking, you will not see students' names when grading their assignments.
Turn-it-in Integration. Click on Manage Turnitin to expand options to enable Turnitin for your Dropbox assignment.
You can organize your Dropbox folders into categories to make it easier for students to navigate the Dropbox. For example, you could create separate categories for each course unit or for different types of assessments (i.e., exercises, assignments, projects).
Click Dropbox on the Navigation Bar and click New Folder.
Click New Category:
 

Image

​

Enter a Name for the Category.

Click Save.

Click the New Category link again to create another category, if desired.
Image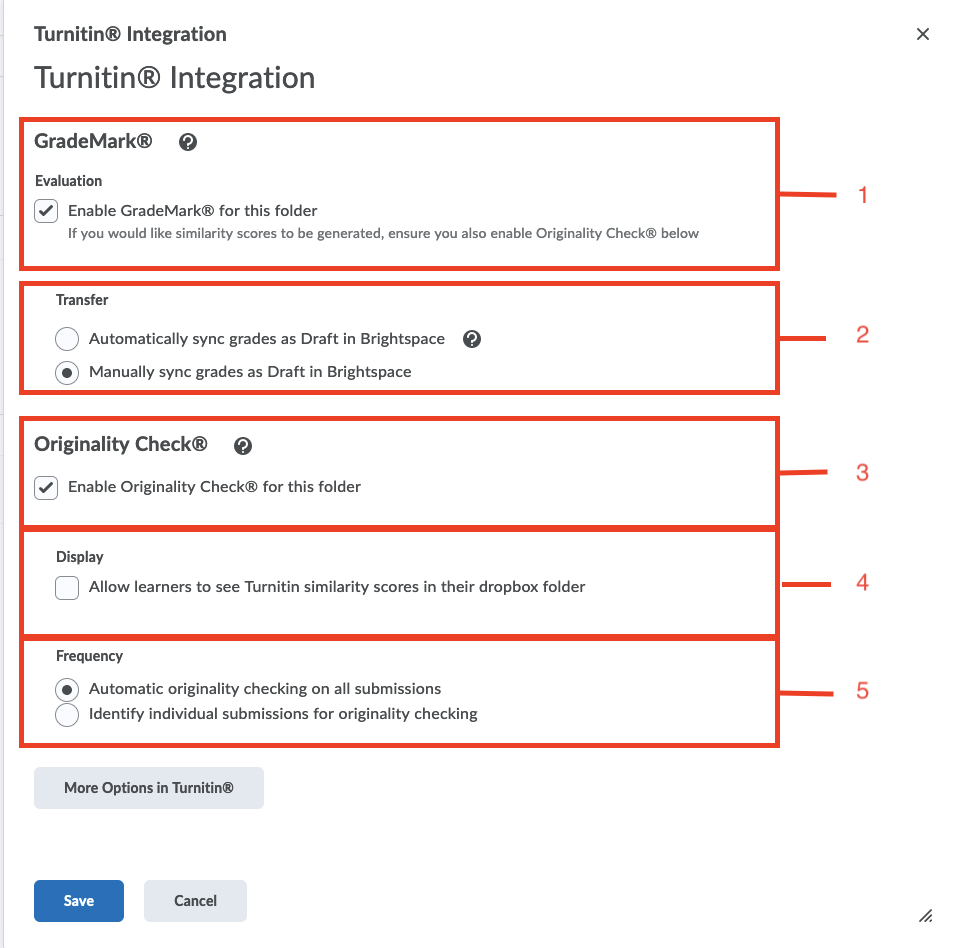 Enabling GradeMark® will give you the ability to annotate student submissions through the Feedback Studio. For more information on the Feedback Studio, visit the Turnitin official support pages.
Choose a grade transfer option.

Automatically sync grades as Draft in Brightspace: Have the system automatically save your grading drafts in Turnitin to Beachboard. Where there are multiple submissions, the score on the most recently submitted assignment will be transferred. Instructors have the option of manually updating to another score.
Manually synch grades as Draft in Brightspace: Manually click "Save Draft" before saving the grades. 

Enabling Originality Check® will allow similarity scores to be produced for each submission. You can also determine whether you would like students to be able to view their similarity scores. See Turnitin®'s official support page on similarity reports for more information. 
The Allow learners to see Turnitin similarity scores in their Dropbox folder allows the students to see the Turnitin percentage of plagiarized content on Dropbox. 
Select a Frequency for which you want the papers to be run through Turnitin.

Automatic originality checking on all submissions: have all the student's papers automatically run through Turnitin.  
Identify individual submissions for originality checking: Pick and choose which papers you want to run through Turnitin.

Select Save. 
Select Save & Close .
NOTE: Enabling Turnitin® in a Dropbox folder where the feature was originally disabled will not retroactively run originality reports on submitted assignments automatically. You will need to run originality reports manually through the Folder Submissions page (see Viewing and Evaluating Dropbox Submissions). 
You can enable anonymous marking by checking the box labeled 'Hide student names during assessment' at the bottom of the 'Properties' tab when creating a new folder.
Image

Enabling this will anonymize student names when evaluating submissions.
Image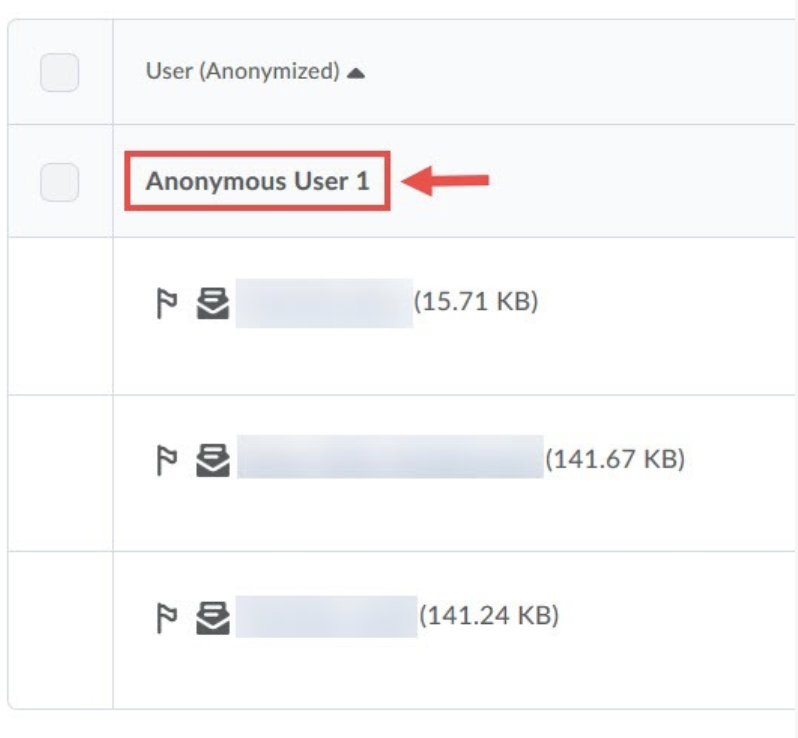 Enabling this feature will also automatically enable anonymous marking via Turnitin's markup tool, GradeMark. Please be aware that once the folder is enabled and a submission has been made, anonymous marking cannot be turned off. All submissions can still be evaluated normally via 'View Submissions' (see /academic-technology-services/instructional-design/viewing-and-evaluating-dropbox-submissions). However, feedback can only be saved as a draft from the evaluation screen (i.e., feedback cannot be published to a student directly via the evaluation screen). You can publish all feedback at once by selecting the 'Publish All Feedback' button on the top left of the folder submissions screen.
Image

Doing this will reveal the names of anyone who submitted a document to the folder regardless of whether any feedback and/or scores were issued to the user. Be sure that all of your feedback has been put into the system before publishing (this process cannot be reversed). You will also be reminded to provide feedback in GradeMark (if necessary) before publishing.
Image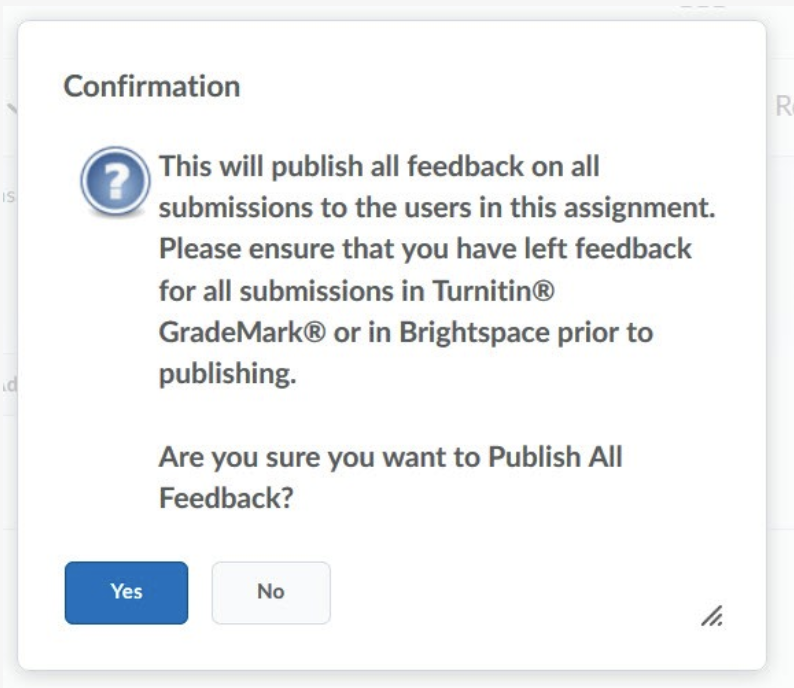 Lastly, enabling anonymous marking will not anonymize the file name. Please make sure that students do not include any text that may give away their identities both within the file name and the document itself.