Creating and Arranging your Course Content
In the Content tool, drop and upload targets indicate where you can drag a particular file, module, or topic.
1. You can drag and drop a file into the designated drop target containing the text "Drag and drop files here to create and update topics" to add a topic.
2. You can also drag and drop files from your computer between topics to create a new topic in a specific spot in the module.
3. You can also drop files from your computer directly into modules in the Table of Contents panel and into a topic's collapsible side panel.
Image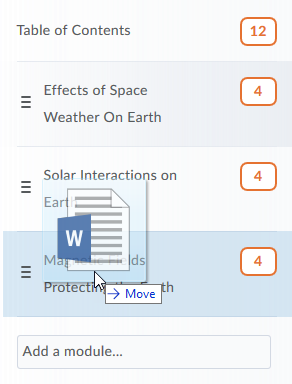 Note: Uploading a file with the same name and file type as another file in your course will update all instances of that file throughout your course.  
Dragging to drop targets is a quick way of reorganizing modules and topics. If you drag a module or topic above or below other modules and topics, a gray line appears to indicate you can drop the module or topic there. If you drag a module or topic over another module, the module appears orange to indicate you can drop it there.
If you do not remember where you recently moved a module or topic, use the Content tool's Search field to find them.
When you drag a module, a blue line indicates a possible drop target.
Image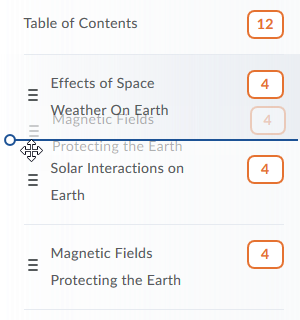 A module turns blue when it is a drop target for another module or topic
Image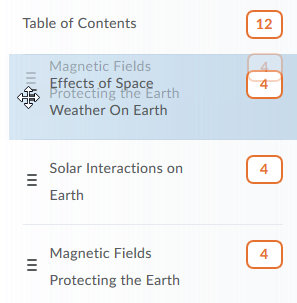 You can automatically update your existing files by dragging the newest version of your file from your computer into the appropriate module.
Image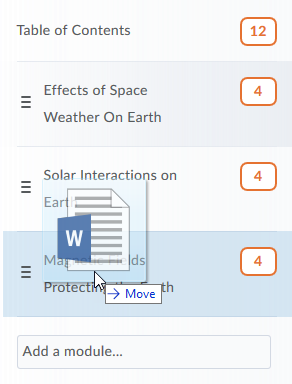 Note: The file name of both files (the one replacing and the one being replaced) need to be titled exactly the same.