Course Galleries - BeachBoard Media
The course's Course Gallery displays all of the media that has been published to this particular course. You can access the Course Gallery by selecting Media in the navigation bar of any course.
Image
To add videos to this course, select the Media tab and select Add Media on the right of the page.
Image

You will see all of the media from your Media Library that has not been published to this course. Check the boxes next to any media you wish to pull from your Media Library into this course.
Image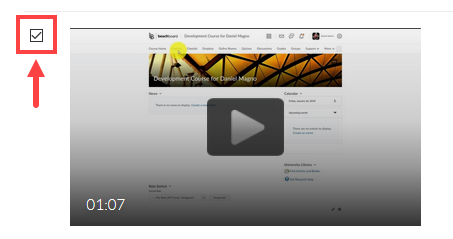 Then select Publish on the top right of the page.
Image

Alternatively, you can select the Add New drop-down menu on the right of the page and select Upload Media, YouTube, or Video Quiz to add media following the same processes detailed in the My Media Library and Video Quiz sections.
Under the Media tab in the Course Gallery, you'll be shown a grid view of all of your videos published to this course. Hover over any image to bring up the "…" icon on that image. Selecting that icon will bring up a set of icons on the left of the image. Selecting the pencil icon will allow you to edit the video. Selecting the trash icon will remove the media from the course's Course Gallery. Please note that removing media from the Course Gallery does not remove it from your My Media Library. If the removed video is not published to any other course, it will be set as Private in your Media Library.
Image