Content Tool - Creating Modules and Topics
You must create a module before you can add topics. You can create sub-modules (modules within existing modules) to establish a deeper hierarchy. Once you create modules, populate them with topics. You can drag and drop files from your computer into a module, or you can select from the Content tool's New and Add Activities buttons to create new topics or add existing course objects.
Note: To keep your course content hidden while you are building it, set the status of your modules and/or topics as Draft.
Image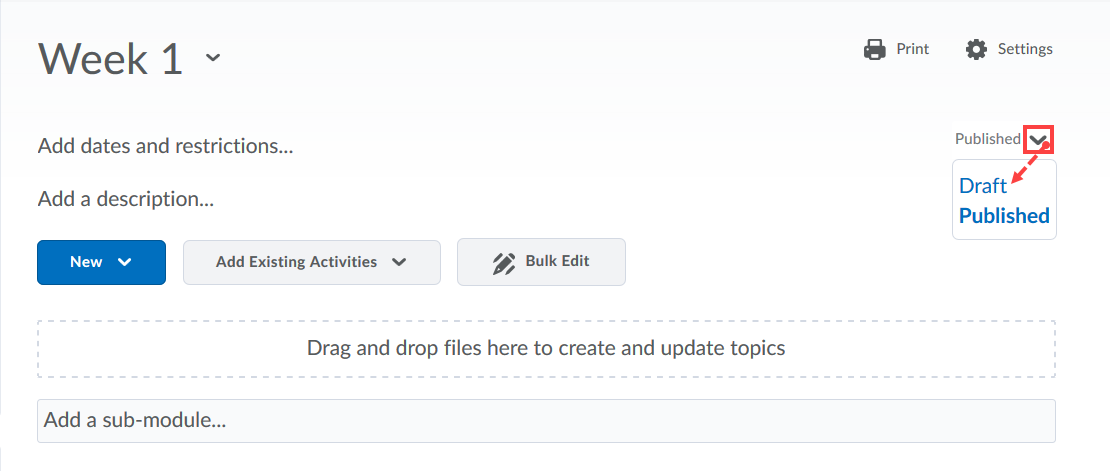 Note: If your course is SCORM 2004-compliant, any new modules you create are outside the sequencing and navigation built into the SCORM package.
Click Content from your course navigation.


Image

In the Table of Contents menu on the left, enter your new module title in the Add a module... field.
Press Enter or click outside the field to add the module.



Image
Click on the module you want to create a new topic in from the Table of Contents panel on the left.



Image


 
On the right, click the New button and select one of the following options:


Image

After you've followed the prompts in the window, do one of the following:

If you are creating a new document, link, dropbox folder, discussion, or quiz, click Publish or Create.
If you are adding files from My Computer, Course Offering Files, or Shared Files, click Add.
Click on the module you want to add a course object to from the Table of Contents.


Image

Select one of the following from the Add Existing Activities button:


Image

Each option will display a pop-up window of all activities you already have built into the course for that respective activity type (e.g., chat, quizzes, etc.) Select any activity in the list to put into this module. In most cases, you will have the option to create a new activity of the selected type in the pop-up window. 
Click on the module you want to add a sub-module to from the Table of Contents panel on the left.


Image

Enter your new sub-module title in the Add a sub-module... field on the right.
Press Enter or click outside the field to add the sub-module.


Image