Collaborations and Downloads - BeachBoard Media
You can access more editing options for any media through your Media Library or Media Gallery (please see the Removing/Editing Videos subsections under My Media Library and Course Media Gallery for details on how to access the editing options). The various editing options are listed in a navigation bar below the player. Each tab offers a set of options to customize your video. For the purposes of this walkthrough, three of the more elaborate tabs will be covered: Collaboration, Downloads, and Timeline.
This tab allows you make other users within BeachBoard Co-Editors or ­Co-Publishers. Co-Editors can edit the entry's details, trim media, replace media, edit captions, edit chapters and edit slides. Co-editors cannot delete media or add new co-editors and co-publishers. Co-editors can also see the analytics page for the media they co-edit. Co-Publishers can publish media to their courses' Media Galleries.
Select Add Collaborator under this tab. The pop-up window offers a field for you to find a specific user and the ability to select whether you would like that user to be a Co-Editor and/or Co-Publisher. Select Add to apply your changes.
Image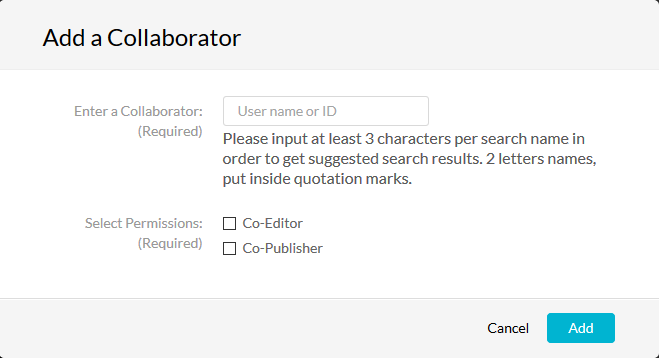 This tab allows you to choose the quality of the media when it's downloaded by other users. Select any/all of the available options and select Add to confirm your changes.
Image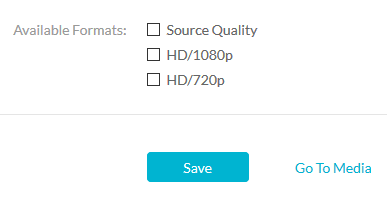 This tab allows you to organize your video into chapters for your students to navigate through. You can also add slides to specific points in the video where your students will be shown a picture-in-picture view of the media and the slides. Students will be able to switch the focus of the viewer between the main video and the presentation slides during these sections of the video. To add a Chapter, select any point in the timeline and select the bookmark icon located on the left of the timeline.
Image

You will be prompted with a set of options to fill out for that specific chapter. Be sure to click Save to apply your changes.
Image

To add slides, choose a point on the timeline and select the slide icon on the left.
Image

A set of options will appear for you to fill out. Select the upload icon on the left to upload your presentation. Be sure to select Save to apply your changes.
Image

Both sets of options include a View In Player button that lets you preview the video. Experiment with the viewer to see how chapters are displayed and how to switch between the slides and video in the picture-in-picture mode.