My Courses Widget
The My Courses widget on the BeachBoard Home page helps organize your courses and provides important notifications. Here, you'll find a menu of categories to select from:
Image

All displays all of your courses (to a maximum of 12). "Pinned" courses will display at the top of the list.
Pinned displays only the courses you have pinned.
Ongoing Courses and Organizaitons will show all the campus organizations you are enrolled in that use BeachBoard.
The remaining categories are displayed chronologically by semester, with the most recent showing first.
Notifications
Under your course name, there are three types of notification icons displayed with a numerical value to alert you of:
Dropbox: the number of submissions that have yet to be evaluated.
Quizzes: the number of submission scores/feedback that have not been published to the students.
Discussions:  the number of unread posts across all topics in the course.
Image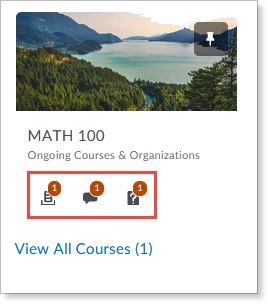 Hover your cursor over any icon to reveal a tip indicating what it represents.