---
Earth Week at The Beach - April 17th - 20th
Earth Week at The Beach is an annual event in honor of International Earth Day on April 22nd. Check out these awesome FREE Earth Week festivities happening all week long!
Silent Spring Movie Screening & Panel Discussion
Monday, April 17th – 5:30 – 7:30 pm
University Student Union Beach Auditorium
Kick off the Earth Week at the Beach by attending a screening of Silent Spring, the 55-minute PBS documentary about the life and work of Rachel Carson, a biologist, author, and fearless champion for the environment and public health. Her landmark work in the 1950s and 60s sparked a revolution in environmental policy and created a new ecological consciousness in America and around the world. The screening will be followed by a panel discussion with CSULB environmental educators and local community leaders who will discuss the role of science and community activism in the past and current environmental movement. FREE PIZZA & POPCORN will be served.
Eco-Fair
Tuesday, April 18th – 11am – 1pm
Speakers Platform (across from the Bookstore)
Join CSULB clubs, campus departments, community organizations, and local businesses at the Speaker's Platform for a carnival-themed Earth Week celebration. There will be games and giveaways, intriguing vendors, and more Eco-Fair fun! FREE PIZZA will be served!
Create & Celebrate + Screen Printing
Wednesday, April 19th – 11am – 1pm
University Student Union Southwest Terrace
This interactive Earth Week event will feature DJ music, DIY eco-crafts, a fun photo-booth and screen printing on reusable canvas bags. Sustain U is hosting the Triple R-Tist Trash bin painting activity, and Engineers for a Sustainable World will be displaying the participants of their Sustainable Dog House Competition!
6th Annual Green Generation Mixer & Sustainability Project Showcase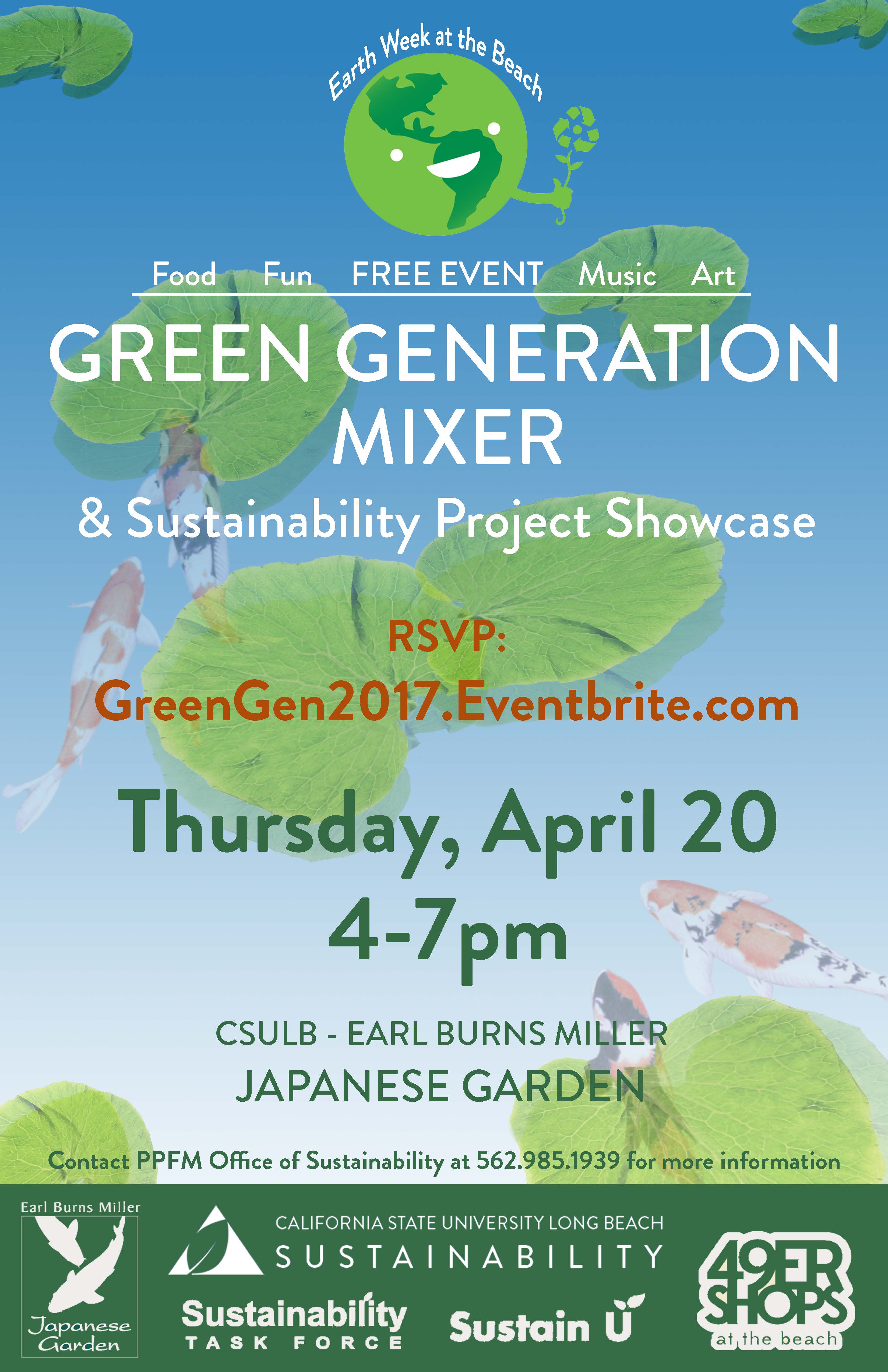 Thursday, April 20th, 4- 7pm  
Earl Burns Miller Japanese Garden
This annual Earth Week event brings together student, faculty, staff and Long Beach community leaders for a fun evening of mingling, music and food. The centerpiece of the event is the Sustainability Project Showcase, a presentation of sustainability-related student and faculty work that explores a wide variety of innovative topics and solutions. You won't want to miss it!
---
The City of Long Beach organizes and highlights a variety of sustainable events throughout the city. The Long Beach community is invited to participate in these public events and take individual actions to make this city more sustainable.
City of Long Beach Calendar of Events  
---
CSULB Sustainability in the News 
Your source for current and archived coverage of CSULB's sustainability programs and achievements
2016
CSULB Carports Will Make Campus Greener
Cal State Long Beach Builds Carport Solar System with Aim of Powering University
Solar panels will soon provide power at Cal State Long Beach
Two Cal State Long Beach Carports to Have Solar Systems Installed
Carry Your Loot on a Scoot: Urban Scooter Aims to Innovate Urban Transportation.
Economics Master's Student Wins CSU Research Competition
CSULB Artists Paint On Recycling Bins to Spread Awareness on Earth Week
Things to do in Long Beach this week: Earth Week and more
CSULB student body: Care to recycle
Hillside Dining Renovation Awarded LEED Gold Certification
Sustainability in the Fashion Industry
Socially Responsible Investing and International Studies
2015
2014
2013
2012
2011