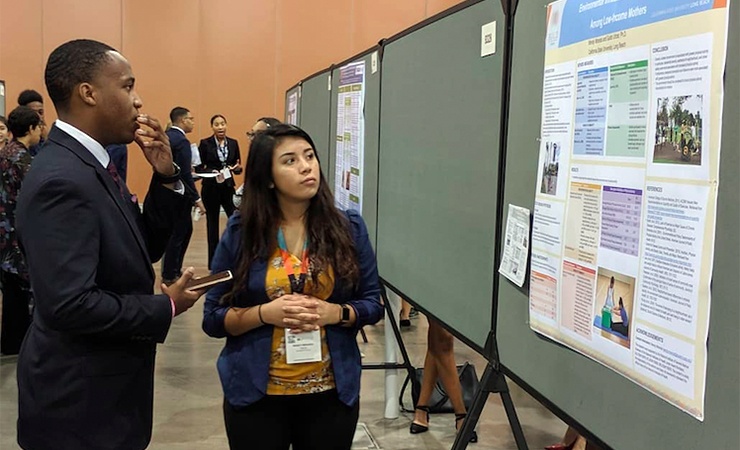 "ABRCMS is a great first conference experience for anyone who has never attended one," said BUILD Year One Scholar Rhea Mehta.
"My experience at ABRCMS was amazing," said Wendy Miranda, a Year One Scholar. "I liked how there are many students from all parts of the U.S. and various backgrounds coming together for research."
At the beginning of November 2017, CSULB BUILD Scholars and Fellows had the opportunity to attend the 17th Annual Biomedical Research Conference for Minority Scientists (ABRCMS) in Phoenix, Ariz. For many of them, this was either their first professional conference or the first time presenting their research at a professional conference.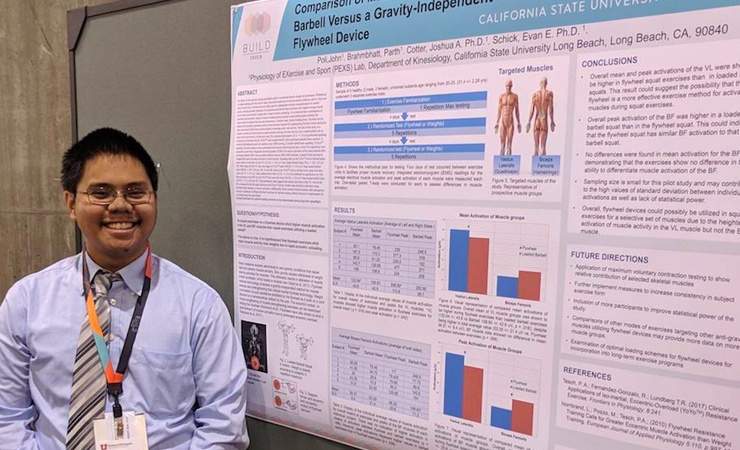 For John-Edward Poli, a Year One Scholar, ABRCMS was not only his first national level scientific conference, but he presented his research there, as well. "What I enjoyed the most was the enthusiasm of all the other students looking at the research I presented," he said. "It would seem that both the students and the scientific community are eager to learn and present knowledge, as well as assist others with what they are working on."
"I loved being able to network with various non-profit organizations and potential graduate schools," said Andrea Fernanda Chirino, a BUILD Fellow. "I also learned a lot from the plenary speakers and felt extremely motivated after hearing them speak."
The conference is one of the largest, professional conferences for underrepresented minority students, military veterans and persons with disabilities who want to pursue advanced training in science, technology, engineering and mathematics (STEM). In order to present their research at the conference, students had to submit a brief summary of their research findings, which, in turn, had to pass a rigorous review and selection process. Not everyone who submitted their work was accepted as a presenter. 15 of the 36 CSULB BUILD trainees who attended ABRCMS presented their research posters this year:
Year One Scholars:
Wendy Miranda
Dalia Sandoval Olmos
Parth Brahmbhatt
Kenneth Bush
Anthony Ricci (won a best poster award)
Ivan Salladay
John-Edward Poli
Amara Pouv
Jorge Alfaro
Kenneth Redd
Jackie Villalba
Year Two Scholars:
Chyann Richard
Melany Garcia
Jason Chetsawang
Fellows
Conference Speakers Inspire Emerging Scientists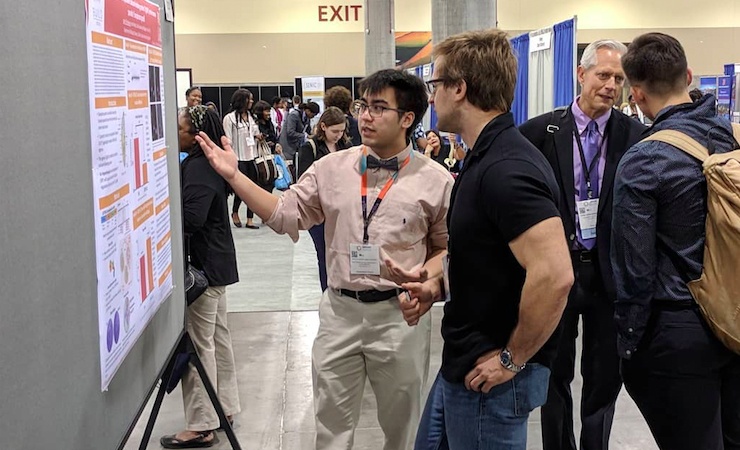 "I liked the speakers," said Miranda, "because they really encourage me to continue to do research."
There were several speakers who shared their stories and their research with attendees.
"The keynote speeches boost my morale and make me feel more excited about my future goals," said Year Two Scholar Jason Chetsawang.
"The conference really inspired me to pursue higher education and to, in a way, change the world by contributing to science," said Miranda.
Presenting at ABRCMS Builds Confidence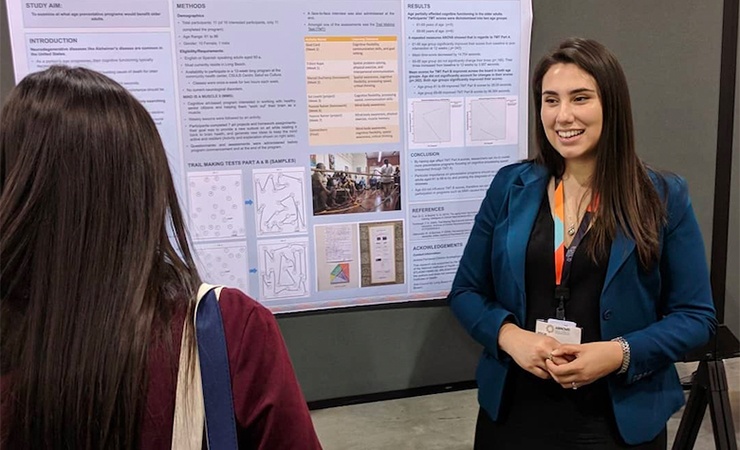 Presenting your research is an integral part of a scientific career and gaining experience in this area, while still an undergraduate, sets students up for better opportunities when applying for graduate school.
"I enjoyed presenting," said Miranda. "Although I was extremely nervous about doing so, presenting in front of judges and my peers was a rewarding experience."
"Presenting at ABRCMS has given me a lot of confidence as a researcher," said Chirino. "This experience has allowed me to become more confident as a researcher because I know I can eloquently present my research. I can also properly represent myself and my institution when questioned by other officials in my field."
ABRCMS Experience Builds Community
Because CSULB BUILD trainees go as a group, most of them taking the same flights and staying in the same wing of the hotel, ABRCMS becomes a unique bonding experience. "I loved bonding with the rest of the Scholars," said Mehta. "We've been meeting regularly since the summer but we were unable to bond and get to know each other thoroughly until ABRCMS."
"I got to learn more about the other Scholars in BUILD both personally and as a student," said Chetsawang.
The support and camaraderie of their fellow BUILD trainees gave them an extra boost of confidence. "Had I been at the event alone without BUILD, I would certainly not have taken out nearly as much to learn from the experience," said Poli. "BUILD provided the structure of a plan for students in their program to get the most out of the experience."
Advice for Future ABRCMS Attendees
Be Prepared for the Opportunities Available at the Conference
There are opportunities to learn, to network and to explore internships and graduate programs at ABRCMS, so this year's attendees recommend coming prepared.
"Prepare your elevator speech!" said Chirino.
In addition to having business cards, and copies of your CV and personal statements, Poli recommends researching the institutions and programs that will be at the conference in advance. "These institutions may appreciate the initiative you take and you may even become good friends with the dean or recruiters present, giving you an edge into the application process," he said.  When at these types of events, vendors often have resources such as application assistance and application fee waivers, which can help you when it comes time to apply.
In addition, take a look at the schedule ahead of time and plan your day, suggests Miranda. "Spend most of your time talking to recruiters and networking!"
Take Advantage of Presentation Opportunities
Chetsawang suggests jumping right in. "Submit your abstract and present even though you only have preliminary data or no data at all."
Once you know you are going to present, "Relax, practice hard and practice repeatedly," said Poli. Know "that practice can go the extra mile to make your presentation stand out."
Once there, soak in the feedback, Poli suggests. "While it is a daunting task to present research to esteemed faculty with years of research experience, they understand the situation you are in and have been there once before. They are there to judge your presentation, but they are also there to ensure that you grow as a scientist and succeed further into your future work," he said.  "They were able to help me learn how to communicate my voice, as well as present information in a more succinct and simple manner that is more effective."
All Work and No Play…
"Be professional, but at the same time have fun," said Chirino. "You meet so many people (from your field and from a different field) and learn so much."
---
Photo Gallery: CSULB BUILD at ABRCMS 2017